Check out the following infographic with some of the statistics that we have compiled from the latest virtual job fairs hosted on the EasyVirtualFair platform.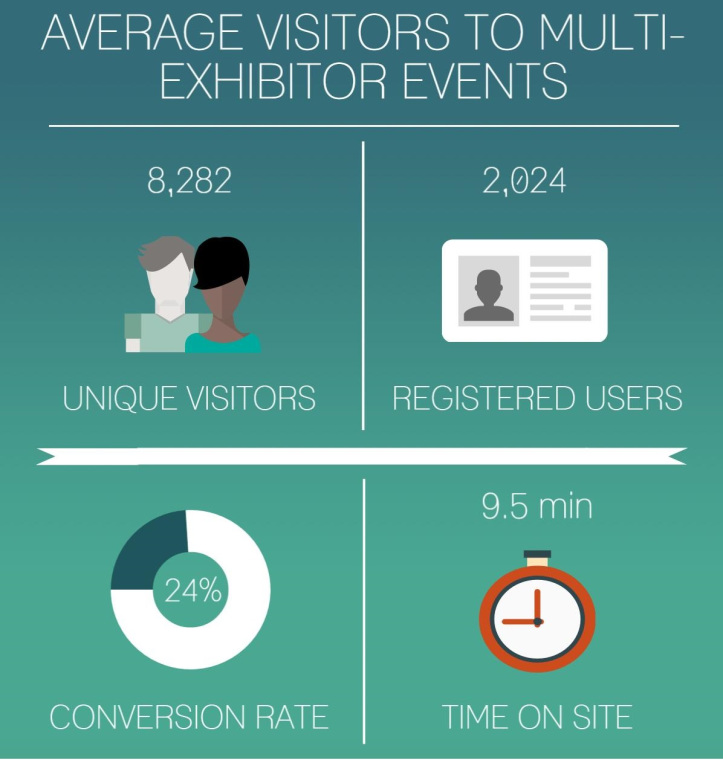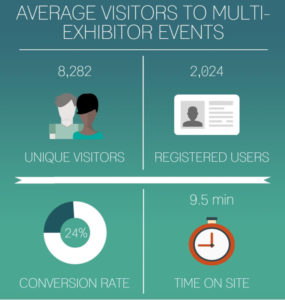 So what can we conclude from these numbers? A couple of things.
1. HIGH CONVERSION RATES
The biggest positive conclusion we can draw here is about conversion rate. In this case, we consider a conversion a user who visits the site and registers, leaving their contact information. Given that the main objective of these events is to generate leads, then user registration is a good measurement of conversion rate. How many websites can claim conversion rates or nearly one in four? Not many.
2. ENGAGED USERS
Another point we can make from this data is that virtual fair users are quite engaged. Based on an average time on site of nine and a half minutes, we can see that users not only visit the online fair, but that they stay for a lengthy amount of time. We are working on a new white paper that goes into more detail on this point, and which will show more insights on user behavior at online fairs, what type of content works and what doesn't.
MAKING A VIRTUAL FAIR WORK FOR YOU
As you can see, then, digital fairs have the potential to generate a lot of good traffic. The success rate of any given event, of course, depends on a number of different factors, such as building an effective sales strategy and having a good marketing campaign. Clearly, though, when done right, they can be a great way to:
Reach new target markets
Reduce costs and maximize your ROI
Generate detailed user interaction data
EASYVIRTUALFAIR ONLINE JOB FAIRS AND MOBILE COMMUNITIES PLATFORM
Would you like more information on how to host a successful virtual fair? Then contact us today, and we can show you how to make our platform work for you. With experience in hosting over two hundred events, we can offer you a full-service platform for any type of virtual event, with the following benefits:
a robust platform with a proven track record of great user experience
an expert team of project managers to guide you through the design and customization options
industry know-how and expert support for your sales and marketing efforts
live, event day technical support to make sure your fair goes as smoothly as possible.
Interested? Contact us using the form below to learn more.